Kariem Hamed - 07 / Apr / 2015
Visit Albert Grivault - April 2015
April 7, 2015 - The first time we visited the domaine of Albert Grivault in 2011, we fell in love with the wines and with the charming mr Bardet who is the wine maker and grandson of Albert Grivault.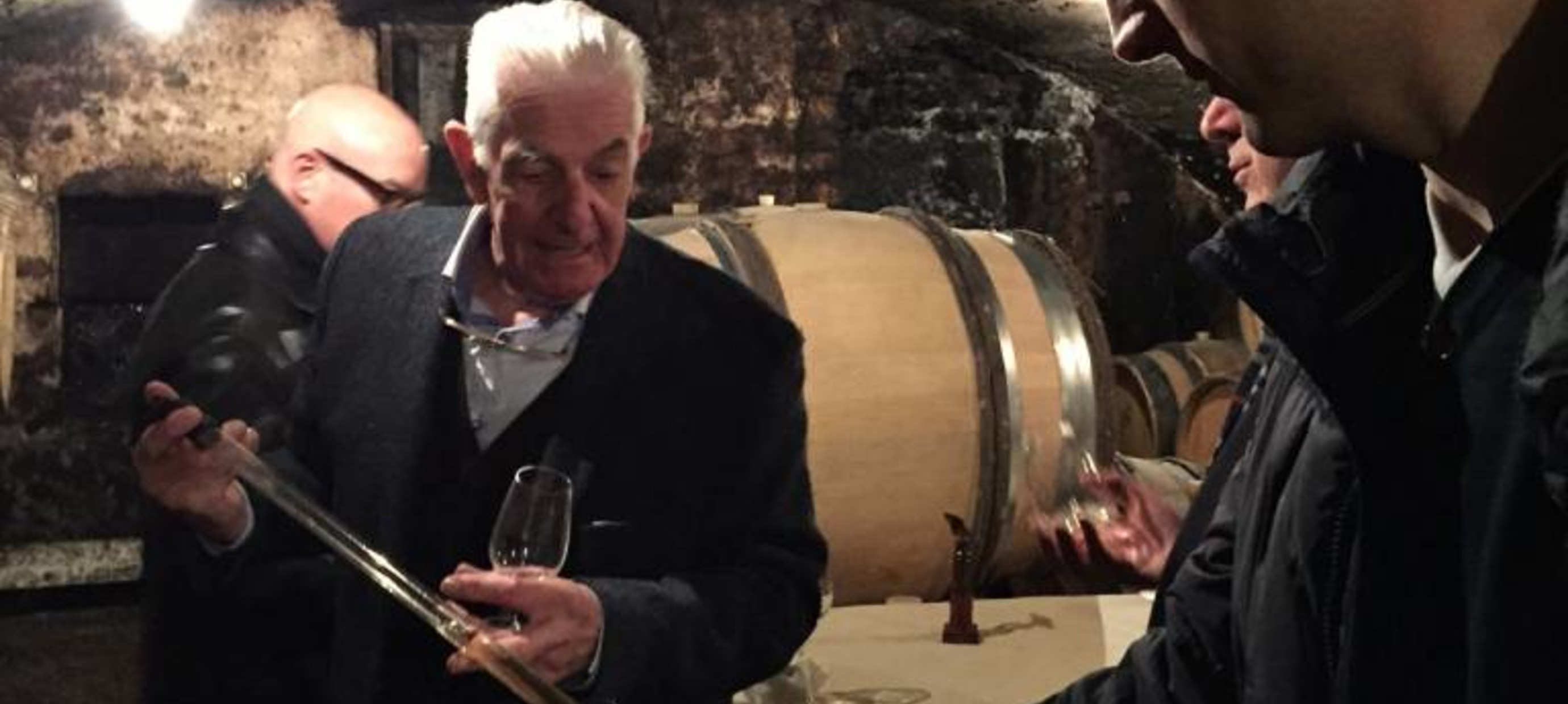 Charming
He lives in Dijon and during the season his sister (from 1923) lives at the chateau. Michel drives from Dijon to Meursault a few times per week to work in the cellar. For the work in the vineyards he has hired a few 'vineyard managers' as Michel is too old to do the hard work himself. But he oversees all the work.
This visit we were together with guests from Taiwan and USA. The tour starts out in the vineyard immediately behind the chateau, recently labeled 'Clos du Murger'. It is beautifully situated and when harvest comes the grapes have not travelled any distance before being selected to get into the vats.
Tastebuds
After an introduction to the domaine and the vineyards, the company descended into the cellar for a tasting of the full range of the domaine. He starts out with the Bourgogne Blanc, then moves up the ladder with Meursault, Meursault Premier Cru Perrières and tops it off with his monopole Meursault Premier Cru Clos des Perrières. From fruity to deep minerals and complexity. When you just think the Bourgogne Blanc is amazing wine (which it is in its class) your tastebuds are blown away by the next wine.
This time we got to taste the 2013s and for most bottles he had a 2012 open to taste against it. With a crayon he writes the date he popped the cork on the bottle. Some wines are in half bottles and some in regular sized ones. Sometimes he let's you taste a bottle that's been open for a week to let you experience how the wine evolves over time.
Learning the Game
And there is no room for spillage. As this is a proper tasting (around 10 in the morning) yo want to spit out most sips. The leftovers in the glasses don't get thrown out in the spitting bowl but in a different container he brings back to the house to give it to his sister for cooking purposes or so.
While tasting he explains with enormous passion about the winemaking philosophy and techniques, letting us taste wine from a few different barrels to taste the differences (this was the 2014 vintage obviously). He explained how he always tries to extract different flavours out of the grapes to be able to differentiate himself from other wine makers. Over 80 years old and still experimenting and learning, talk about inspiration!
Grandpa
After the tour finished he ushered the other parties away and he asked if we had a bit extra time to stay longer. Mais oui! I knew from experience what that meant: we'd be going to his private cellar where he'd pop a really old bottle. On a previous visit he opened a 1924 Pommard. That tasted incredibly young. It turned out it was sister's birthday that day and she doesn't drink more than one glass anyway.
Once in the private cellar he asked us what we wanted to taste, so we said a mature Meursault. He then grabbed a 1988 Meursault Perrières out of a rack and opened it. When were were drinking it (forget about spitting at this point!) he told me he thinks I look exactly like his grandfather, Albert Grivault! Comparing an old photo and me, my companions Erik and Rogier obviously agreed I'm his spitting image. Now I finally learned why I always get special treatment during these visits!
Almost one hour late for our lunch reservation we left satisfied, carrying the half finished bottle with us to the restaurant.